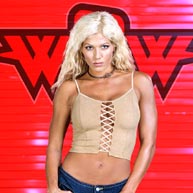 TORRIE WILSON
Height: 5-9
Fans haven't seen the lovely Torrie around a ring since November 2000. But the gorgeous blonde has returned to bring a steamy touch of sweetness to WCW.

Torrie cut short her life as a Boise State student to pursue her dream of making it big in show business. Judging from the overwhelming reactions crowds give when she struts down the entrance ramp, it's clear that Torrie graduated to bigger and better things by entering the sports-entertainment industry.

Huge, adoring crowds are the main reason that Torrie decided to return to the ring and help jump start WCW. "I missed performing," she said emphatically. "It's just the best feeling when you're out there."

While Torrie loves the attention and compliments her stunning looks attract, there's much more she plans to become in WCW than just a gleaming piece of eye candy. "I definitely want to learn how to wrestle more and get into the ring and do more than I had," she said.