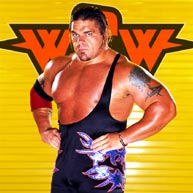 HUGH MORRUS
Height: 6-2
Weight: 280 lbs.
Hugh Morrus has already made an impact on WCW's invasion of the World Wrestling Federation, and that's No Laughing Matter.

After a brief hiatus from the ring, Morrus dashed in on a Federation match between Kane and Edge during a RAW IS WAR broadcast and had a little fun. He climbed the top turnbuckle and hit Edge with his signature moonsault, a move he calls the No Laughing Matter.

Edge certainly failed to find the humor in Morrus' strike, but the crowd that evening stood awed at the amazing agility of the 280 lbs. high-flyer. Morrus disappeared from RAW just as quickly as he showed up. But with the invasion continuing to escalate, don't be surprised to see him break up more Federation matches in the future. "I'm ready for anything," he warns.