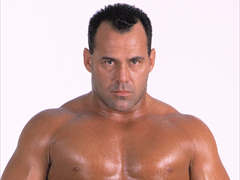 Dean Malenko


Height: 5' 8"
Weight: 212 pounds
Finishing move: Texas Cloverleaf
Career Highlights: Light Heavyweight Champion (2)



Dean Malenko entered the World Wrestling Federation and quickly became the Light Heavyweight champion.

Malenko also considers himself a "ladies man" and the "James Bond of the World Wrestling Federation."

Malenko is now ready to take his opportunity as a champion in the WWF and prove to the world that he deserves to be thought of as a main-eventer.