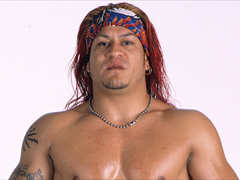 Essa Rios


Height: 5' 10"
Weight: 195 pounds
From: Tijuana, Mexico
Finishing move: Moonsault
Career Highlights: Light Heavyweight Champion



Essa Rios is a master of aerial tactics who strikes with deadly accuracy. Spinning planchas or suicide dives frequently obliterate his unsuspecting opponents.

The former Papi Chulo reemerged in the WWF on the Feb. 13, 2000, edition of Sunday Night HEAT with his then valet, Lita. On that night, the Latin superstar defeated Gillberg to become the new WWF Light Heavyweight Champion. He reign lasted exactly one month, when he lost the belt to Dean Malenko on RAW. Essa hit a wall after the loss, which included a defeat at the hands of Eddie Guerrero at Backlash. On the May 25 edition of SmackDown!, Essa's frustration boiled over when he attacked Lita after a loss to Matt Hardy. Now on his own, only time will tell how far Essa's aerial attack will take him.