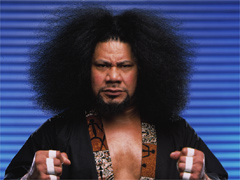 Haku bio


Height: 6'2"
Weight: 280 pounds
From: Samoan Islands
Career Highlights: Tag Team Champion (with Andre the Giant)



Haku is one of the most feared men in the history of sports-entertainment, and he's back in the World Wrestling Federation. His surprise return at the Royal Rumble sent a shiver down the spine of everyone in the Federation locker room.

For years, Haku has been respected for his toughness and his grit. During his first stint with the World Wrestling Federation in the late 1980s and early 1990s, Haku was a feared competitor on the tag team division. His teamings with the Barbarian and King Tonga are legendary, and for several months in 1990, he even held the Tag Team Championship with the late Andre the Giant!

Now the native of the isle of Tonga is teamed up with Rikishi, in an alliance of two of the biggest, baddest men in Federation history. Haku is older, wiser and even tougher than he was before -- a fact which will no doubt give sleepless nights to many Federation Superstars.