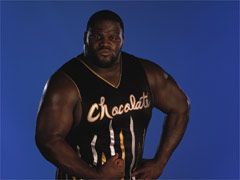 Mark Henry


Height: 6' 1"
Weight: 380
From: Silsby, Texas
Career Highlights: European Champion



Not only is Mark Henry known as the "World's Strongest Man," but to the beautiful females of the Federation he is also known as "Sexual Chocolate."

Since becoming romantically involved with Mae Young, the former Olympian has seemed to step it up a notch in the Federation. The love of the 80-year-old Young might be just what Mark Henry needs to return to the Federation's championship ranks.