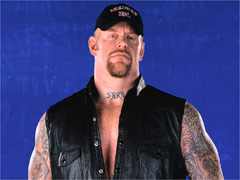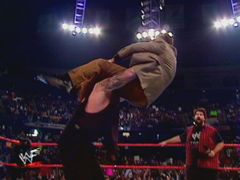 The Undertaker teaches McMahon a lesson.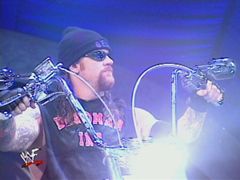 The undertaker shows his new wheels.
The Undertaker


Height: 6' 10"
Weight: 328 pounds
From: Death Valley
Finishing move: Last Ride Powerbomb
Career Highlights: World Wrestling Federation Champion (3); Tag Team Champion (5)



The Undertaker is perhaps the most awesome presence the Federation has ever seen. The American Bad Ass has finally returned after an almost yearlong absence from the ring. When he enters arenas with the thundering sound of his motorcycle, everyone stops to see what will happen next.

The Undertaker has been a haunting force since he entered the Federation at the 1990 Survivor Series. He has since transformed into a frightening power that amazingly has gotten better and more destructive with each passing match. In less than a month, Taker defeated Triple H in a physical encounter at WrestleMania X-Seven, and teamed up with his brother, Kane, to become Federation Tag Team Champions.

Ask anyone about the Undertaker, and theyll tell you his already a legend in this business. But be assured that Taker promises to dominate all those who oppose him. Thus far, he has more than lived up to those words, and he wont rest until hes left a trail of broken bodies and in possession of the Federation Championship.