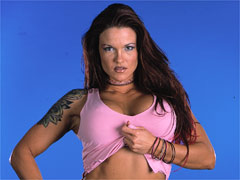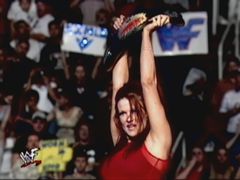 Lita becomes the womens champion.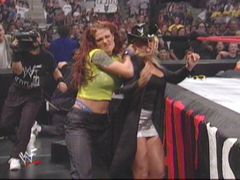 Lita shows Trish her mean side.
Lita


Finishing move: Moonsault
Career Highlights: Women's Champion



This fiery redhead has proven time and time again she packs more than a sultry look. Both men and women have fallen victim to Lita's arsenal of moonsaults and hurracanranas.

Litas Federation career took off when she became Womens Champion, and since teaming with the Hardy Boyz, it has showed no signs of slowing down. And if things could get any hotter for Lita, she and Matt Hardy have become an item - and havent been shy about showing their affection for each other!

Given her ability in the ring, combined with her stunning looks, Lita could easily get her hands on anything she wants -- be it Tag Team gold for the Hardys or a second reign as Women's Champion for herself.