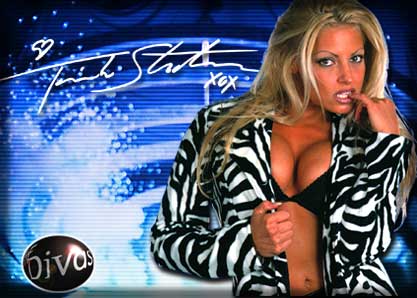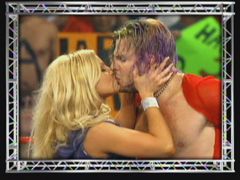 Liplock to Jeff Hardy.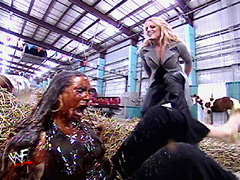 Trish gets Stephanie goodstyle.
Trish Stratus


From: Toronto, Ontario, Canada
Favorite Quote: "Stratusfaction guaranteed!"



Trish Stratus came to the World Wrestling Federation looking for one thing - power. The sultry diva had no problem using her feminine wiles to get whatever she wanted, as was evident by the name of the team she managed for nearly a year - T&A.

But T&A dissolved once Trish caught the eye of Mr. McMahon. The World Wrestling Federation chairman liked what he saw, and Trish liked the opportunity that a relationship with Mr. McMahon presented. The two became inseparable, becoming more than friends.

Soon Trish started to assert herself - a fact which bothered Stephanie McMahon-Helmsley, who vowed that she was the dominant female in the Federation. Stephanie soon proved that very point, and Trish humbled herself.

But at WrestleMania X-Seven, Trish slapped Mr. McMahon across the face. Trish had joined forces with Linda McMahon, the Federation Chairmans angst-ridden wife. Trish has always said that shed do anything for the right cause - and at WrestleMania, she revealed just what that cause was!

But now Trish is a marked woman in the Federation. She has crossed the boss, and payback may be a bitch. But if history is any indication, the vivacious Trish will emerge from the battle with her head held high and a smile on her face.