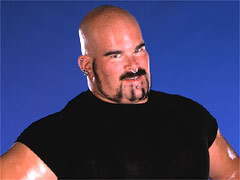 Albert


Height: 6' 7"
Weight: 350 pounds
From: Boston, MA
Finishing move: Baldo Bomb
Career Highlights: Intercontinental Champion(current)



A graduate of the World Wrestling Federation's training camp, Albert is one of the most powerful and colorful superstars on the roster. His power moves, including his finishing maneuver, the sit-down powerbomb, is the stuff of nightmares!

Once a feared tag team competitor with Test, the duo has since split ways, and Albert is now a feared, and brutal man in the singles division.