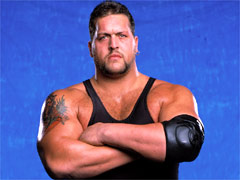 Big Show


Height: 7' 2"
Weight: 500 pounds
From: Tampa, Florida
Finishing move: Chokeslam
Career Highlights: World Wrestling Federation Champion; Tag Team Champion (2); Hardcore Champion (2)



The Big Show tore into the World Wrestling Federation -- literally. He first showed up at St. Valentine's Day Massacre in February 1999 by ripping through the ring canvas and, in an amazing display of strength, throwing Stone Cold Steve Austin through a steel cage! Since then he has proven that his big debut wasn't a fluke.

Simply put, the Big Show is a blue chipper. Whether it is lifting up an entire ring or pulling the entire Titan Tron down to the floor, he puts on a show that fans won't soon forget.

Show realized a lifelong dream when he won the Federation Championship at 1999's Survivor Series. Since returning from a conditioning stint in Louisville, Big Show is now showing signs of becoming the unstoppable force. In the Hardcore Division, Show showed off his nasty side, and recently, he refused Shane McMahons offer to join WCW to remain with Vince McMahon and the Federation. Knowing he now has to prove himself to the Federation Champion, Show is more hungry than ever to prove to Mr. McMahon that he can advance beyond the greatness everyone has set for him.