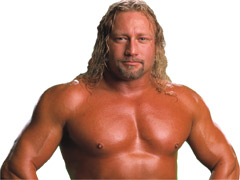 Jerry Lynn


Height: 5' 8"
Weight: 180 pounds
Finishing move: DDT
Career Highlights: Light Heavyweight Champion (current)



Jerry Lynn wasted no time making a splash in the World Wrestling Federation. In his very first Federation match -- on HEAT prior to the Backlash Pay-Per-View in April 2001 -- Lynn upended Crash Holly to win the Light Heavyweight Championship!

Lynn's arrival in the Federation highlights a spectacular sports entertainment career. The Minnesota native has been a headliner in Japan, in WCW, and even in Extreme Championship Wrestling, where he won the ECW Heavyweight Title!

The high-flying Lynn is also one of the most technically sound competitors in the game today, but since arriving in the Federation, he has also added a mean streak to his arsenal. Lynn isn't above bending the rules to win a match, which may just be the factor to propel him straight to the top of the World Wrestling Federation. And if his fiture is anything like his Federation debut, then Jerry Lynn will be a top competitor for years to come!