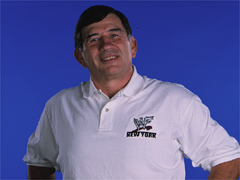 Gerald Brisco


Career Highlights: Hardcore Champion (2)



An institution in the World Wrestling Federation for more than 20 years, Gerald Brisco, along with Pat Patterson, is completely loyal to Vince McMahon (or, as Brisco would say, "Mr. MAC-Mahon"). Whether he needs a cup of coffee, a special (presumably biased) referee, or even a warm body for a wrestling match against one of his archrivals, Vince calls on the "associates." And they respond -- even if they know they're in for a good beating.

Before they were Mr. McMahons loyal "yes men," both Patterson and Brisco enjoyed considerable success in the squared circle. Patterson was the very first Intercontinental Champion, while Brisco was part of a legendary tag team with his brother Jack.