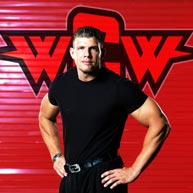 MARK JINDRAK
Height: 6-6
Weight: 255 lbs.
As a kid growing up in upstate New York, Mark Jindrak often envisioned becoming a professional basketball player. But he soon realized that while a career in Europe could be a possibility, he would never reach his prized goal.

"I really wanted to play in the NBA," said the 6-6, 255-pound Jindrak. "But I went to a small school and it probably wasnt going to happen. It really hit hard."

So after his sophomore season, Jindrak left Keuka College in Keuka Park, N.Y., and moved to Orlando to search for a new calling. He found it at Universal Studios, where WCW often taped shows.

"I met a few of the wrestlers and learned about the Power Plant," said Jindrak, referring to WCWs former training facility. "I think 22 people tried out and maybe two or three made it. I thought, Maybe I have something here."

What Jindrak has is remarkable agility for a man of his size. His ability to maneuver in the ring and perform aerial moves serve him well in WCW. But Jindrak wants to take things slowly and learn the business. Not a bad decision considering that hes been sharing the same locker room with greats such as Stone Cold Steve Austin, Triple H and Chris Jericho since WWFE acquired WCW.

"Its been more than I expected," said Jindrak about WCWs transition to McMahon ownership. "Chris Jericho came over and talked to me to say I need to relax and learn more about ring psychology," Jindrak said. "Ive talked to just about everybody. Im picking up bits and pieces."

Jindrak received a huge opportunity Monday night on RAW IS WAR as he played a role in the historic merging of ECW and WCW. He looks forward to having an increased presence in WCW by hopefully building an interesting character with assistance from the best in the business. "Thats something the old WCW never helped me with," Jindrak said. "But people here ask questions and try to get to know you because they may see something in you that you dont. I think that over time someones going to help me find a character or role in the show that can go somewhere."

Still under age 25, it appears that Jindrak has time to fine-tune his abilities and work his way toward the top. "I just turned 24 two weeks ago," he said. "I think I have a good jump on things. I think I have to progress at a good pace. Its not like Im fighting the hands of time."