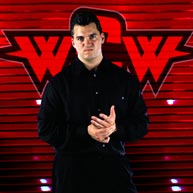 SHANE MCMAHON
WCW Chairman

Some children want to grow up and be just like their father. Others, like Shane McMahon, want to destroy theirs.

Shane McMahon pulled off perhaps the most shocking feat his father and World Wrestling Federation Chairman Vince ever saw. On the final broadcast of Nitro, Shane announced that he and not his powerful father
Months later, Shane began an assault on his father's beloved company. He strengthened his cause by orchestrating the merger of ECW along with that companies owner, Stephanie McMahon-Helmsley.

Now, Shane focuses on surging WCW back to the top of the sports-entertainment industry while becoming more powerful that his father ever thought possible.