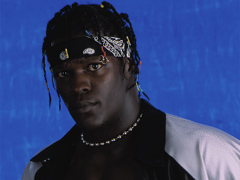 K-Kwik


Height: 6'1"
Weight: 230 lbs.
Finishing move: Hang Time



K-Kwik is a high-flying rapper who loves to "Get Rowdy."

He first his memorable Federation debut on HEAT on MTV, where he electrified the crowd with an amazing rap performance.

Ever since, K-Kwik has proven to be a worthy competitor in the squared circle, using his speed and high-flying manuevers to attack his opponents.