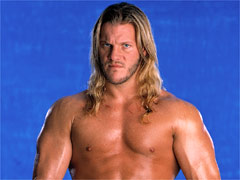 Chris Jericho


Height: 6'
Weight: 231 pounds
From: Winnipeg, Manitoba, Canada
Favorite Quote: "It will never, e..e..e..ever happen again!"
Finishing move: The Walls of Jericho
Career Highlights: Intercontinental Champion (4); European Champion; Hardcore Champion; Tag Team Champion



He calls himself a new hero. Your new party host. The Ayatollah of Rock n' Roll-a. The Y2J problem. Call him whatever you want, but the fact remains ... Chris Jericho has arrived in the World Wrestling Federation!

With one of the most spectacular entrances in the history of sports-entertainment, Jericho made his Federation debut live in Chicago on RAW IS WAR!

He feels that he is here to save the Federation, and that every single superstar should just, "Shut the Hell up!"