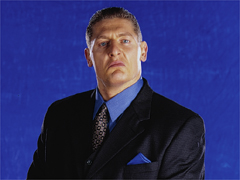 William Regal


Height: 6'2"
Weight: 245 pounds
From: Blackpool, England
Finishing move: The Regal Stretch
Career Highlights: European Champion (2); Federation Commissioner



William Regal is a Goodwill Ambassador from the United Kingdom who joined the World Wrestling Federation with a mission to help create a more civilized society. In his quest to have people be more polite and civil to each other, Regal immediately noticed the unruly behavior of various Federation Superstars. And as the current Federation Commissioner, Regal has worked tirelessly to be a fair and honest commissioner.

Commissioner Regal is determined to teach everyone the importance of being proper and polite, as they are virtues everyone should have. Any Superstar who disagrees will learn quickly that the Commish means business when he teaches the proper way of life.