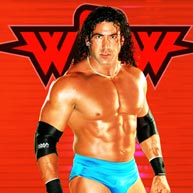 CHUCK PALUMBO
Height: 6-5
Weight: 265 lbs.
WCW Tag Team Champion
After loading deadly bombs onto jet fighters while managing the chaos on the flight deck of an aircraft carrier, throwing opponents around a ring must feel easy for Chuck Palumbo.

Before learning the ropes as a WCW Superstar, Palumbo served in the United States Navy as a plane captain. Now he pairs up with Sean O'Haire to form WCW's Tag Team champions.

Although high-risk tag matches haven't been presented for Palumbo to compete in, he's ready for the day when he defends his championship against an onslaught of tables, ladders and chairs. "I'll do whatever I've got to do," he said.

He got an unexpected taste of what to expect in the coming weeks during WCW's invasion of the World Wrestling Federation. Palumbo and O'Haire raced into the ring at SmackDown! where they crashed a Federation tag team championship match. There's sure to be more destruction in the coming weeks as Palumbo helps lead WCW into battle.

SEAN OHAIRE
Height: 6-6
Weight: 280 lbs.
WCW Tag Team Champion
Sean O'Haire says that when he hits the ring, fans can expect at least one thing -- intensity.

A big fan of the Hardy Boyz before he entered the sports-entertainment business, O'Haire utilizes a similar high-risk aerial style in attacking his opponents. His crushing Seanton Bomb almost always leads to a pinfall.

O'Haire and partner Chuck Palumbo still hold the WCW Tag Team Championship. With WCW's invasion of the World Wrestling Federation beginning to rage, chances are that O'Haire may find himself in the ring with some of the Federation's top tandems.

Think that makes him nervous? Then you don't know Sean O'Haire. "I'm just looking for asses to whip," he said.

O'Haire holds no fear either about going it alone in singles competition. "I don't care as long as there's an ass-kicking going on," he said. "I like violence."