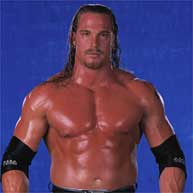 TEST
Height: 6-6
Weight: 282
Test enjoyed much success as a World Wrsetling Federation Superstar, but since the WCW invaded the Federation and his fellow superstars started to question his loyalty.

Feeling unwanted and unappreciated, Test has left the Federation behind and joined the Alliance. With his help DDP and Kanyon were able to defeat the APA to become Federation Tag Team Champions.

Hes got the look, the talent and the desire that will make him one of the great ones.