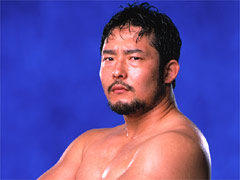 Tajiri


Height: 5' 9"
Weight: 205 pounds



"The Japanese Buzzsaw" has arrived to the World Wrestling Federation! Although Tajiri is currently a servant to Commissioner William Regal, there's no denying what this young stud is capable of accomplishing in the squared circle.

While on a tour of Mexico, Tajiri incorporated a high flying Lucha Libre style into his background of martial arts and Japanese shoot wrestling to become one of the top young junior heavyweights in the world. In 1998, Paul Heyman gave Tajiri an opportunity in Extreme Championship Wrestling, where the Japanese Buzzsaw worked a series of memorable matches, including a few with current Federation Superstar Tazz. Tajiri's blinding, rapid-fire kicks to the face and an unorthodox maneuver called the Tarantula earned respect thought the sports-entertainment world, and an eventual ticket to the Federation.

These days, Tajiri runs menial errands for Commissioner Regal, including fetching his tea. If and when Tajiri gets his opportunity to shine in a Federation ring, his innovative, quick-strike arsenal will no doubt result in a ton of exciting Federation bouts for years to come.