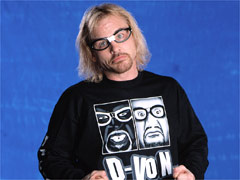 Spike Dudley


Height: 5'8"
Weight: 150 pounds
From: Dudleyville
Finishing move: Dudley Dog



Spike Dudley may be the runt of the Dudley litter, but hes the perfect example of the old cliché, Its not the size of the dog in the fight, its the size of the fight in the dog!

Its ironic that Spike is teaming up with older brothers, D-Von and Bubba Ray Dudley. After all, Spike admitted that while he, D-Von and Bubba competed in Extreme Championship Wrestling, his older brothers frequently kicked the crap out of him! In fact, nearly half of ECW tossed Spike around like a rag doll, threw him through tables and split him open with thunderous chair shots to the head.

But Spike kept coming back for more, which earned a newfound respect from D-Von and Bubba Ray. In March, Spike shocked the world of sports entertainment by debuting on RAW IS WAR and helping his brothers win their third World Wrestling Federation Tag Team Championship! And although various Federation Superstars still underestimate Spike for his size, they learn pretty quickly about the size of Spikes heart, how far its gotten him already, and that the best out of Spike is still yet to come!