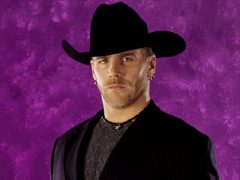 Shawn Michaels


Height: 6' 1"
Weight: 227 pounds
From: San Antonio, Texas
Finishing move: Sweet Chin Music
Career Highlights: World Wrestling Federation Champion (3); Intercontinental Champion (3); European Champion; Tag Team Champion (3); 1995 and 1996 Royal Rumble winner



Perhaps the most exciting and charismatic superstar ever to grace a World Wrestling Federation ring, Shawn Michaels, the founder of the controversial D-Generation X, is the self-proclaimed ICON of sports-entertainment. Michaels holds the distinction of being the only competitor in history to capture the "Grand Slam" of the Federation (holding the Federation Title, Intercontinental Title, European Title and Tag Team Title).

Injuries have kept the Heartbreak Kid from competing in the ring since WrestleMania XIV. However, ever one to seek the spotlight, Michaels returned in November of 1998 when he was named the new Commissioner of the World Wrestling Federation!

Also in 1998, Michaels opened the Shawn Michaels Wrestling Academy with his mentor, Jose Lothario, in San Antonio.

In the summer of 2000, Michaels handed over his title as WWF Commissioner to another Federation stand-out, Mick Foley.

Now, Michaels continues his relationship with the Federation as the WWF's official spokesperson, attending events around the globe as a representative.