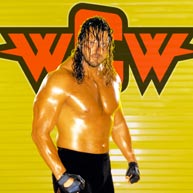 CHRIS KANYON
Height: 6-3
Weight: 245 lbs.
WCW United States Champion
Kanyon's widely regarded as one of WCW's most professional and talented superstars. It's no wonder that Kanyon was called on to train Jay Leno and Karl Malone for their appearances in the ring.

Kanyon is now being counted on to provide some muscle in WCW's invasion of the World Wrestling Federation. It certainly won't be long before someone feels the deadly force of The Flatliner, Kanyon's signature finishing move.

Formerly a WCW Tag Team Champion along with Diamond Dallas Page, Kanyon has recently teamed with Shawn Stasiak. But now, the WCW U.S. Champion is a force in the singles division.