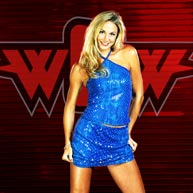 STACY KEIBLER
Height: 5-11
At 21 years old, Stacy Keibler could choose to spend the summer hanging out with her friends on a sparkling Maryland beach and relaxing before heading back to college.

Instead, the stunning, leggy blonde eagerly anticipates resuming her full-time career in sports entertainment as one of the industry's most gorgeous women.

Keibler, more popularly known as Ms. Hancock in the defunct WCW, took the latest graceful step in her young career by invading World Wrestling Federation television during the June 14, episode of SmackDown!, which took place in her home city of Baltimore.


"It was such a rush!" exclaimed Keibler in a WCW.com interview. "It was so much different than the old WCW. The crowd was crazy. To be in my hometown made it even more special."

Keibler learned of her role in the invasion when she received a call Monday evening from WCW road agent Johnny Ace (John Laurinitis). Bring a few outfits with you to the stadium, Ace advised ominously.

A day later, Keibler pranced out from beneath the OvalTron to accompany WCW Chairman Shane McMahon to the ring, where Test battled Rhyno for the Federation Hardcore Championship. Whether the sold-out Baltimore Arena crowd roared out of appreciation for Keibler's attractiveness or because of her celebrity status in the city is open for debate. But her beauty certainly captivated Rhyno's attention. The site of Keibler's slender 41-inch legs gave Test just the distraction he needed to help score the win and the championship.

"Hot! Hot! Hot!," is how Shane O'Mac described the appearance. "That was my gift to SmackDown!. The sultry, seductive Stacy Keibler."

Her Federation television debut provided a welcome break from the training and relaxing that occupied much of Keibler's time since the final Monday Nitro. But Keibler didn't have to sign on with the revamped WCW to keep herself busy in the future. She could have continued as a Baltimore Ravens cheerleader or devoted herself to completing her degree in mass communications from Towson State University. The allure of being a part of the new venture, however, proved too enticing.

"I'm very excited already," Keibler said. "I can tell it's going to be very professionally run. It's a whole new ball game. I feel so lucky to be one of the girls chosen to be part of this. I couldn't be happier."

But the glamour associated with being a superstar on the go carries loads of accountabilities that Keibler needed to adjust herself to after winning the Nitro Girl competition and debuting with WCW. "I had to grow up and mature quickly," she said. "I've definitely grown up faster than other people my age. There's a lot of lot of responsibility that comes with flying, hotels and rental cars."

What Keibler's role in the new WCW entails remains to be seen. She feels content to assume whatever character is assigned to her. "I love being a bad girl," she said. "But I think it would be fun to be a good girl too. I felt very comfortable working with Shane the other night. It might be fun to be his sidekick or do something like that."

Should her duties include competition, Keibler stands ready to step inside the ring. "I always want to improve myself overall and be the best I can," she said. "I'm definitely willing to learn and don't mind getting in there and being physical. But I don't want to be wrestling every week. I want the crowd to be like 'Oh my gosh! She's wrestling today!'"

Wrestling to Keibler provides a means to attain her biggest dream of becoming a successful full-time actor. But before she lights up the silver screen, Keibler plans to complete her degree one class at a time while shining in the new WCW. "I want to stand out and make my mark on the industry somehow," she said. "I think with (the new WCW) I have a good chance."