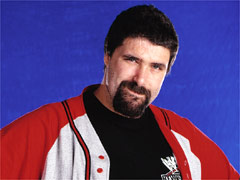 Mick Foley


Height: 6' 2"
Weight: 297 pounds
From: East Setauket, Long Island, N.Y.
Favorite Quote: "Have a Nice Day!", "Bang! Bang!", "Oooowww... Have Mercy!"
Career Highlights: Federation Champion (3); Tag Team Champion (8); Hardcore Champion; Federation Commissioner



Mick Foley has completed the follow-up to the No. 1 bestseller, Have a Nice Day. This one is entitled Foley is Good, and there is no better way to describe the life and career of one of the World Wrestling Federations greatest and most popular Superstars.

Whether he was the fun loving, cool cat Dude Love, the deranged Mankind, or the Hardcore legend Cactus Jack, Foley is one of the most respected competitors in the history of sports-entertainment. While an active competitor, Foley had the reputation for enduring more pain that anyone. And although he is happily retired from active competition, his maniacal personality remained on display while penning - literally penning - both his books. Foley wrote his own autobiography -- but since he doesn't own a computer or even a typewriter, he filled up 760 pages of notebook paper writing freehand!

After retiring from the ring in April of 2000, Foley returned as Commissioner of the World Wrestling Federation that June. Successfully, Foley began his tenure as a fan-friendly leader, booking matches that he thought Federation fans wanted to see. This all ended, however, when Vince McMahon and his daughter, Stephanie, unleashed an evil plan to kick Foley from his perch as Federation Commissioner, forcing him out as Vince uttered his infamous lines, "You're fired!"

To the surprise of no one, Foley has done okay since. At WrestleMania X-Seven, Foley was the special referee of Mr. McMahons Street Fight against Shane McMahon. With the help of Linda McMahon, Foley earned revenge on the Federation Chairman for his actions last December!

What does the future hold for former Federation Superstar and Commissioner? Your guess is as good as anyone's.